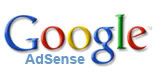 I know this topic has been discussed a lot on the internet and people are still talking about the same Google Adsense earnings, so do I, being no exception. But I have a reason to talk about it here on this blog. This blog is about "Earning Online Money" and Google Adsense is a great tried and tested tool for making money. There are billions of websites and blogs floating on the internet having Google Adsense installed on them. And there are thousands of more blogs adding to it every other day!

Why so many blogs and websites are using Google Adsense? It is simple; they make money with Google Adsense! If you have a 3 month old website or blog you can register with Adsense and apply for an account. On approval from Google Adsense, you can simply follow a few steps and start displaying Adsense ads on your web pages.

When a visitor clicks on one of these ads while browsing your site, you make money! You could earn any where from $0.01 to almost $1.5 per click. I have also heard people making $10 per click. It all depends on the content on your sites and the amount of traffic you generate. That is the key to be successful with Google Adsense.

So, if you wish to make more money online, with almost no limits to it, create a free blog on blogger.com or wordpress.com and try using Google Adsense. All for free, and nothing to loose! All the best with your Google Adsense venture.